DirecTV Stream Service Review 2023
The DirecTV Stream service is a live streaming service comparable to YouTube TV, Hulu Live and Fubo TV. For cord cutters, it's a good replacement to cable (Xfinity) or satellite (Dish, DirecTV) television, especially after their double-digit price increases for 2023. DirecTV stream offers the exact same channels at Satellite for less money with no contracts. Plus, if you love watching our Colorado regional sports teams, it might be the best option for you. Learn the pros, cons and best way to watch the DirecTV Stream service.
We're here to help you make the best choice on local and streaming TV. Save your sanity – request a free home TV & Wi-Fi consultation.
How to watch DirecTV Stream
Channel coverage. DirecTV Stream includes local channels (ex. ABC, CBS, FOX, NBC) plus other cable channels (ex. ESPN, FOX NEWS, MSNBC, History, USA, and HGTV). In total, $79.99 gets you about 100 channels. Options are available to pay more for more channels up to ~150 channels.
For the Sports Enthusiast. To get Altitude Sports and AT&T SportsNet Rocky Mountain via DirecTV Stream, the minimum subscription plan required is their Choice Package which starts at $108.99 per month. We recommend downgrading to their base plan at $79.99 per month during those months that you do not watch regional sports.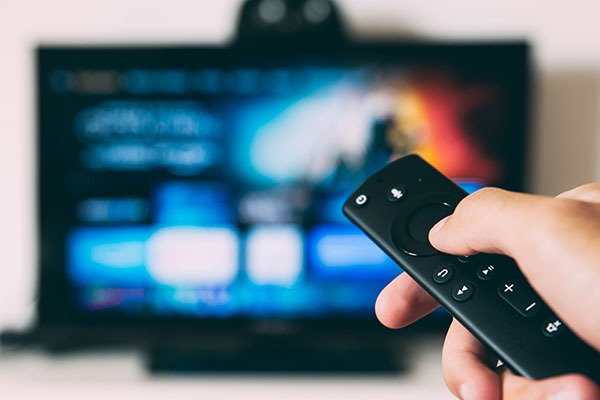 Pros
Regional Sports – DirecTV Stream is the only way to watch all regional sports networks (RSNs) – Altitude Sports and AT&T SportsNet Rocky Mountain.
No contracts – DirecTV Stream, like most all streaming service providers, is available with no contracts and the option to downgrade. Or, cancel at any time.
Channels – While more expensive than others, DirecTV Stream does have most cable channels available within their TV bundles.
Unlimited DVR – while only available to new customers who sign up online, the DirecTV Stream DVR allows you to record almost anything you want. The limit is 90 days, however. Another limit is only 30 shows in a series can be recorded.
Traditional navigation – DirecTV Stream's traditional grid TV guide is one of the best in the industry. It packs a lot of information into a limited space. Sometimes this is just the best way to channel surf.
Simultaneous Viewing – DirecTV Stream might be the most advanced in simultaneous viewing and recording.
Cons
Not Easy to Cancel – DirecTV makes it nearly impossible to cancel. The user experience will force customers into a chat – be ready to say "No" 6-8 times. Other streaming service providers make this experience much easier to do online within the account.
Channel Blackouts – DirecTV Stream is the most susceptible to blackouts due to their long history of negotiating aggressively with broadcasters. Because of this, we don't expect this to change and blackouts will continue.
Expensive – While less expensive and more flexible than traditional cable or satellite TV, DirecTV Stream is the most expensive streaming service provider. Expect that it will always be the most expensive streaming option. And, expect annual price increases of $5 – 10 per month. Learn more about the 2023 increase to $79.99.
---
We make choosing a streaming provider easy
See which provider offers the lowest price for the channels you care about watching. Our streaming service comparison tool makes it easy to choose from hundreds of options.
---
What you need to know about Regional Sports Networks
Just like local network channels, regional sports networks (RSNs) cost more. The reason is that broadcasters charge extremely high rebroadcasting licensing fees to service providers. Consequently, Altitude Sports (for Nuggets & Avalanche) is still blacked out on Xfinity and Dish as well as other live streaming service providers. Similarly, AT&T SportsNet Rocky Mountain (Rockies) is not available from any other provider in 2023. For more details, read best way to watch the Colorado Rockies in 2023.
For Colorado residents, this means you will pay an extra $30+ per month to watch Avs, Nuggets and/ or Rockies – that's at least a premium of $360 per year.
Is the DirecTV Stream Service right for you?
DirecTV Stream is the best option if you want local and cable channels plus Altitude Sports and AT&T SportsNet Rocky Mountain. The flexibility of no contracts and to change packages during those months when you don't need RSNs is also a good benefit.
However, RSNs are expensive channels, so if sports aren't valuable, there are much better options. Depending on which cable channels you watch, combining an outdoor HD Antenna plus a micro bundle of 40+ cable channels could reduce your TV costs to as low as $7 per month.
DirecTV Stream is still a better option than traditional Cable or Satellite and offers the exact same channels. If you still feel the DirecTV Stream service is right for you, we recommend you subscribe online to get the best promotional pricing.
Reader Interactions