In our NOW TV Review, learn about included "live" channels, value and how to watch.
Xfinity has put together a decent streaming bundle based on the monthly price per channels. However, we're cautious about recommending NOW TV because of its limitations and requirements. Before subscribing to NOW TV, consider options and alternatives.
Current Streaming Industry Trends
In the first quarter of 2023, Xfinity (the consumer brand name of Comcast) lost nearly 7,000 video subscribers per day. Why? One big reason is because consumers are tired of paying $28 per month in broadcast TV fees. Smart cord cutters know that they can get those channels for free, in HD, with an antenna. Plus, consumers are tired of subsidizing sports that they do not watch but still pay "Regional Sports Fees." Nor do they like paying extra fees for HD and DVR service.
Cord cutters did not stop watching the sports, news, and shows they love. They just got their shows from cheaper streaming services and from antennas. Often, free TV service apps like Pluto, Tubi, and Crackle are downloaded for shows and movies. But the smartest installed an antenna and got cheap subscriptions to Sling to watch cable channels like ESPN, FOX News, MSNBC, CNN, etc.
Considering these trends, we're not surprised to see Comcast Xfinity release NOW TV in an effort to compete against hundreds of streaming services.
NOW TV Overview
At first glance, 40+ channels for $20 per month, NOW TV seems like a good deal. The service has a wide variety of lifestyle channels plus Xfinity "includes" a subscription to Peacock Premium (a $5/mo. value). Most Xfinity customers already benefit from the Peacock Premium giveaway. Read our review of Peacock.
According to the Comcast corporate website: "NOW TV was built to meet the needs of the value-conscious consumer who wants an entertainment product that is simple and convenient with quality programming movies, top shows, live sports, and news. Launching in the coming weeks, NOW TV will be available to Xfinity Internet customers for an everyday monthly price of $20, no equipment required, and the ability to sign up and cancel anytime."
At the current price point, it seems like a good deal. Proceed with caution – Comcast has a tendency to raise prices annually. They also are aggressive at upselling and make it extremely difficult to cancel a service. We also caution against the forced add of an Xfinity Flex box, even if it is "free." The other thing to know – it's only available to Xfinity customers.
NOW TV channel list
NOW TV is a subscription streaming service that is most comparable to Sling, Philo, or Frndly. Frndly starts at just $7/month and overlaps 9 channels including The Weather Channel, Lifetime, History Channel, Hallmark and A&E. Philo at 76+ channels starts at $25/month and has a lot of the same channels, making NOW TV less expensive with about 30 fewer channels but with the bonus of Peacock Premium. Sling starts at $46/month for 50+ channels, many the same, but
At current prices, NOW TV is a pretty good deal for Lifestyle channels. But, the service is ONLY for Xfinity customers. Depending on your channel needs, we often recommend Frndly, Philo or Sling for streaming, especially when paired with an antenna for local channels.
IMPORTANT: NOW TV's 40+ live channels DO NOT include the most watched live local channels ABC, CBS, NBC, FOX, or PBS. Nor does it include popular live channels CW, ESPN, Fox News, CNN, or MSNBC. Avoid stacking multiple subscriptions, view the full channel list at visit Xfinity.com.
Hardware Requirements
According to Xfinity, NOW TV will NOT currently work on Roku or Apple TV. Nor is it available via an app on any Smart TV. No surprise, it works with the Xfinity Flex Box – which we do not recommend! And, it works on Amazon Fire TV Sticks – which we do recommend. While it can be cast to a Chromecast device, but we don't recommend Chromecasts as they tend to be finicky.
Conclusion: NOW TV Review
If you like the channel lineup on NOW TV, we say give it a try. After all, the price is right. Currently, it is the least expensive way to watch Hallmark Channel, History Channel, Food Network, AMC and HGTV… for now. We predict that within a year, prices will be closer to $30/ month and likely increase annually. You can sign up for NOW TV in your Xfinity account if you are a Comcast (Xfinity) internet customer.
Keep these warnings in mind:
Comcast never makes it easy to cancel anything.
Be prepared for high pressure sales tactics.
This introductory price will go up.
Avoid renting Flex Boxes from Comcast as you can get the same functionality and more in an Amazon Fire TV Stick.
You will likely be required to set up a separate Peacock account.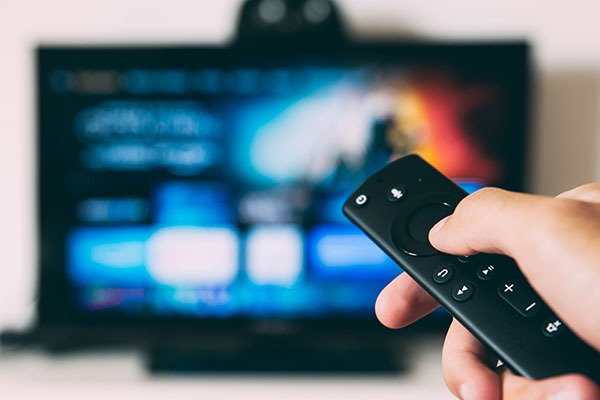 Reader Interactions